Back to Events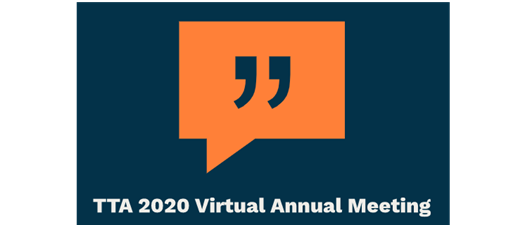 TTA 2020 Virtual Annual Meeting
Wednesday, December 2, 2020
at
1:00 PM (EST)
to Friday, December 4, 2020 at 11:00 AM (EST)
Event Details
Registration
Register to attend the TTA 2020 Annual Meeting, which will take place virtually, due to the impacts of Covid-19.
An informative and valuable program has been compiled. There will be no fee charged to "attend" this virtual event. Current members and prospective members are encouraged to attend the virtual sessions and to invite additional representatives at your companies to participate.
Sponsorship Opportunities for the Virtual Meeting
We are excited to announce special sponsorship opportunities available for the 2020 Virtual Annual Meeting. Sponsor logos will be displayed on the TTA website, and sponsors will be given an opportunity to deliver a 5-minute presentation to attendees during the opening session, on December 3.
19 Other Registered Attendees
SCHEDULE OF EVENTS
Wednesday, December 2
1:00pm - 2:30pm ET - Board of Directors Meeting (Board members only)
Thursday, December 3
1:00pm - 1:15pm ET - Welcome/Introduction/Sponsorship Updates
1:15pm - 2:15pm ET - Ray Ridley, Ridley Engineering, Circuit Modeling of Advanced High-Frequency Magnetics Losses
2:30pm - 3:30pm ET - Brian Zahnstecher, PowerRox, 5G is Changing the Network in More Ways Than One May Realize
Friday, December 4
9:00am - 9:30am ET - General Membership Meeting / Materials Updates
9:30am - 11:00am ET - Alex Chausovsky, ITR Economics, Economic Update
---
SPEAKERS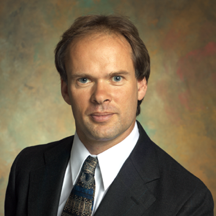 Ray Ridley, Ridley Engineering
Dr. Ray Ridley has been designing and researching power supplies for over 35 years. He is the industry's leading teacher of working engineers with his power supply design workshops and educational seminars worldwide. All of his work is grounded in theory and practice, and aimed at helping design engineers improve their understanding of power supplies. He is very active in teaching, researching, and publishing power supply design books and articles. He is president of Ridley Engineering, Inc.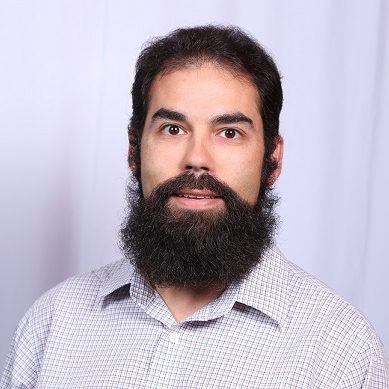 Brian Zahnstecher, PowerRox
Brian Zahnstecher is a Sr. Member of the IEEE, Chair of the IEEE SF Bay Area Power Electronics Society (PELS), and the Principal of PowerRox, where he focuses on power design, integration, system applications, OEM market penetration, and private seminars for power electronics. He has successfully handled assignments in system design/architecting, AC/DC front-end power, EMC/EMI design/debug, embedded solutions, processor power, and digital power solutions for a variety of clients. He previously held positions in power electronics with industry leaders Emerson Network Power, Cisco, and Hewlett-Packard, where he advised on best practices, oversaw product development, managed international teams, created/enhanced optimal workflows and test procedures, and designed and optimized voltage regulators. He has been a regular contributor to the industry as an invited speaker, author, workshop participant, session host, roundtable moderator, and volunteer. He has over 13 years of industry experience and holds Master of Engineering and Bachelor of Science degrees from Worcester Polytechnic Institute.
Alex Chausovsky, ITR Economics
Alex Chausovsky is an accomplished Speaker and the Senior Business Advisor at ITR Economics. He is a highly experienced market researcher and analyst with more than a decade of expertise in subjects that include macroeconomics, industrial manufacturing, automation, and advanced technology trends.
He has consulted and advised companies throughout the U.S., Europe, Brazil, China and Japan for the last fifteen years and has been featured on NPR, the BBC, and in the Wall Street Journal.
His extensive consulting expertise is greatly valued by management teams of companies both large and small. ITR Economics' clients rely on his input when developing strategic plans for the future, as he helps them plan for risk conditions and find areas of opportunity.